Rittenhouse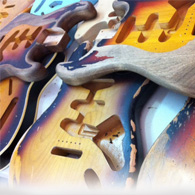 Our Instruments
Each Rittenhouse relic guitar is crafted for easy playability, awesome tone, top-of-the-line electronics, and a keen attention to detailed craftsmanship.
Each unique Rittenhouse guitar is given individual attention in order to create a one-of-a-kind relic instrument that is true to life vintage.
Abe Rittenhouse
Established in 2007 by Abe Rittenhouse, Rittenhouse Guitars benefits from a rich artistic family heritage of painters, sculptors, and fine-carpenters.
Abe's artistic and musical gifts are further nurtured in the diverse and colorful atmosphere of South Florida.
Abe combines his passion for music and his own enjoyment in playing the guitar, with a zeal for detailed craftsmanship, to create each one-of-a-kind Rittenhouse relic guitar.