RS Guitarworks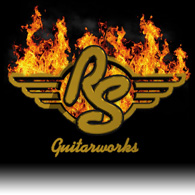 RS was established in 1996 when Scott Leedy answered a newspaper advertisement placed by Roy Bowen for guitar refinishing. Scott was playing out and doing guitar repairs but needed help on the finish work he was doing on a guitar he was working on. The two became friends and started working together as a hobby helping friends with repairs and refinishing. Eventually, the hobby became a full time job and that's when Roy and Scott started RS Guitarworks specializing in refinishing, building and repairing guitars.
In 2001, Roy and Scott started working with the makers of quality capacitors and potentiometers to develop electronic components specifically made to work in guitars rather than just be generic electronics parts, and that led to our RS SuperPots and GuitarCaps. "Our electronics were initially not developed for sale, but rather to get the most out of our own guitars, but as we refinished and repaired guitars more people kept complaining about the performance and poor quality of the stock parts, so we started offering them for sale to the public. Now we are well over the 100,000 kit mark and they are not only used in our guitars, but by many other builders and pro players around the world."
"The development of RS SuperPots started in 2004 and the parts have evolved on each order over the years to improve them for the original taper we designed in house. The most recent improvements made to RS Guitarworks potentiometers was offering the lowest turning torque available from CTS and the addition of a retainer clip to reduce push-throughs." The GuitarCap was also designed by RS starting in 2003 to exacting specs. "We offer Jensen GuitarCaps made for us to use in our Vintage kits. We have worked to continue improving the tone, reducing the size and even changed suppiers in 2006 of our Modern GuitarCaps to guarantee a consistent supply and quality".